Login
To get access to the backend, you have to login - either with the credentials you have entered during the installation or the username and password the website administrator created for you.
The password is case sensitive (PASSWORD is not the same as password).
This is what the login screen looks like: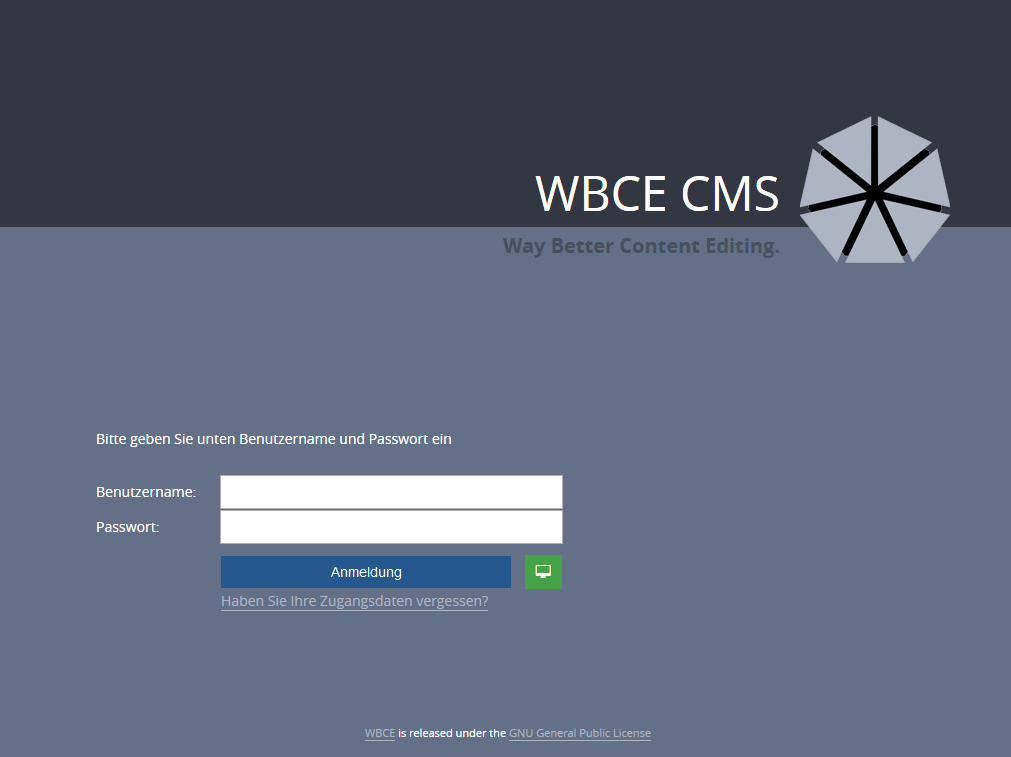 After five failed login attempts the access to the backend from the current browser will be disabled for some minutes. To enable it sooner, use the "unblock_source_ip" tool from the WBCE tools, copy it via FTP in the root of your website and call it once in the browser. Do not forget to delete the file afterwards.
If the login fails, you can click on "Forgot your details?". In the upcoming form you have to enter the email address which was used during your user registration, and a captch (please note that this is not available if session cookies are disabled).
If the address is stored and the user account is not deactivated, the system will generate a new password and send it to the given email address.
This may take a few minutes (WBCE CMS generates the mail immediately, but some spam filters need time to deliver the mail to you - so don't become impatient, and check your spam folder if the mail does not arrive). You can request a new password only once every 60 minutes.

For the emergency case that the password mail cannot be sent or you have no access to the mail inbox you used during the installation and you are the site administrator, you can copy a password reset script to the server (this means of course that you need FTP credentials). Please be aware that after running the script it has to be deleted from the server IMMEDIATELY and you also HAVE to define a new secure password IMMEDIATELY!